A good website is a company's soul. In the digital world, first impressions are formed by a fast-loading and responsive website, which not only displays an attractive design and but also caters to an interactive user experience, and keeps the promise of getting back customers time and again. Now, you must be wondering, how a website can promise customers? A good one surely can! With outsource python development available easily, today, a cutting-edge website is merely a big task.
Why Is Python A Good Start?
The biggest mistake (here's how to avoid it) which amateur entrepreneurs make is using a template based website. As much as it is a good idea to use a template for fast set up, it also limits user interactions, attractive features, and easy designs modifications. So, what should you know? Python. This one word can change the life of your business. A website developed in this simple, cost-effective language is not only responsive but is also easy to maintain and modify later on.
With new trends, new market research and better business strategies, you need a better website, too. Your customers, i.e. your online target audience, tend to judge you sub-consciously by the design of your website. A clustered, old style or confusing website will automatically be the reason for bounced traffic. Moreover, you need an SEO-friendly space. Fast loading websites have become a reality, thanks to Python development services, for which businesses can find language experts at low costs.
The language beyond Websites
While it took you long enough to decide which language to use for developing your websites, there are tons of other things to consider, or not. You may be planning to launch a mobile application for your product or service, or you may be deciding upon acquiring customized software which can help you keep tabs on employees, sales, or budgets. The thing is python is your best friend when it comes to anything related to development, be it websites, applications, software etc. It is observed that around 91 percent of people keep their phones near them at all times. Android apps, iPhone apps, Hybrid Apps, vertical apps, Windows apps, interactive apps, are all sure-shot ways to keep your target audience engrossed with your brand.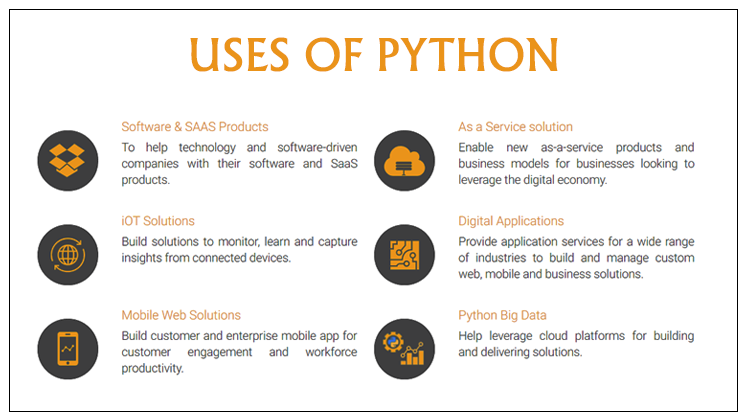 Why are we focusing on it?
Apart from being cost-effective, the Python is a simple yet powerful tool. More than 35% businesses are relying on the language for their websites, mobile applications, and software development. Python developers around the world have admitted that it is not just an easy to use language, helpful in avoiding errors and bugs, but gives a large scope to developing strategies that can be used for the benefit of brands across the globe. Almost every good brand has an eye-catching website, a state of the art mobile application, and some great software for internal use. So, how do big brands do all of it without hassles? The magic word is 'Python development!' With a worldwide recognizable business, one needs to make changes in the website on daily basis, update styles, look, content, and design, modify it or change it according to new developments, research, and strategy. With this language, you are at least sure that it won't consume plenty of time.
Open Source- So what?!
Well, if you are wondering how the language is open source helps developers and coders, then here is the catch! Being developed by coders around the world, it has become not only well designed and fast, but also very portable. Without any license cost, developers are unrestrictedly able to modify and use the code in various contexts. With easy to learn, uncluttered syntax, the language has gained popularity for a number of advantages it poses over other known or lesser known languages, one of the most important one being a complete commercial solution with its rich resources available in abundance on the internet, that can help you get a Python coder at an affordable cost than any other!
The thing is, it is no question of how or why the language gained popularity. Everybody knows it has for the number of benefits it gives. The question is, have you found a Python expert for your company?