UI Design which stands for User Interface Design can be defined as a space where the machine and human interaction takes place. This interface involves both software and hardware components. A UI design lays emphasis on how the various functions have been displayed and the complex details on how the users are able to interrelate with the interface.
The UI Designers are not always worried about the overall look and feel of the product and they work on how the product has been laid out to the user. The role of a UI designer is mainly related to the visual front end design. This involves page designing that will be used by the end user for a product or service interactions. The major responsibilities of a UI designer include:
UI prototyping
Conducting design researches
Branding and Graphic developments
Working closely with the design team for implementation and creation of user guides.
UX Design and roles of a UX designer:
UX design stands for User Experience design and a UX designer works on enhancing the overall customer experience while using the product or service. UX design involves essential aspects like the web content, structure and design including the supporting system. UX designer works on the idea that a good user experience is the key to upturn customer satisfaction and loyalty.
The topmost priority of UX designer is to make a product or service that feels good. They understand the requirements and expectations and come up with designs and solutions to match the required constraints. The major responsibilities of a UX designer include:
Prototyping
Wire framing
Testing
Development planning
UI vs UX – The similarities
The lines between UI and UX designers are thin and they share very important similarities which include:
The foremost objective is to offer fluent customer satisfaction
– The prime emphasis is on the users and their interface with the machine, product or a service.
– The designs that are created can be applicable for any product and service.
UI vs UX – The Differences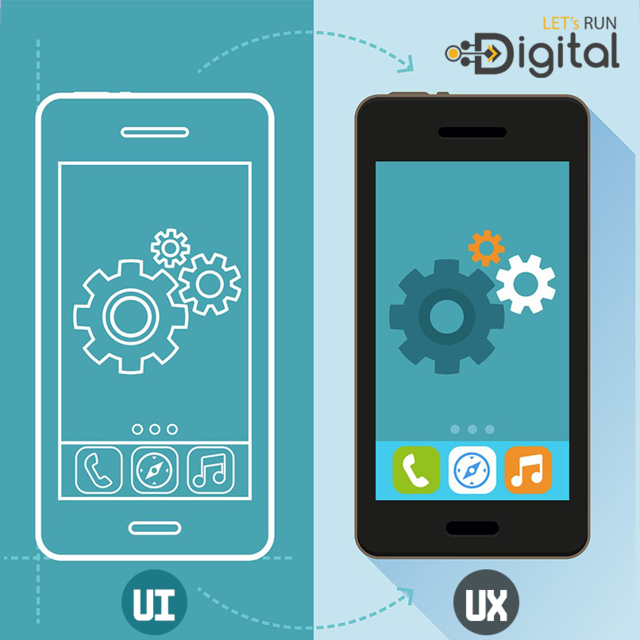 UI vs UX
Both UI and UX designers, despite having similar objectives, have factors that distinct their work from each other. The differences include:
 UX designs are difficult to quantify while the UI designs are tangible and can be tested and shipped.
UI designers set the limits of what a user can do with the website making it a major factor that defines the UX designs.
The UX designers are responsible to forecast the modifications for the future versions of the current product or the service.
Conclusion –Despite of few role differences, both UI and UX designers are critical to the success of a website and they work jointly to achieve the desired goals and objectives.