Business practices have changed over the years. With the changing ways of human life and evolution of modern technologies, people have adapted themselves to the digital lifestyle. The requirement of manual labour has come down and things have become accessible to man without much effort.
It is observed that almost every person toady is involved in the digital process. Whether it is ordering something through an application or it is about a person getting connected to others through social media on the internet.
In an attempt to capture the very rapidly growing marketplace, most of the small and medium businesses are doing everything possible to attract target audience through digital marketing.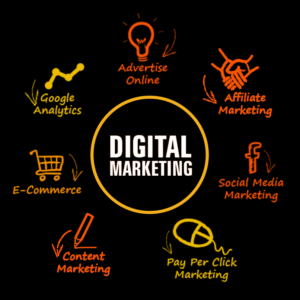 Here are some of the reasons that shows how digital marketing plays a vital role in the success of Online Business:
1. Levels the Online Playing Field
Around a couple of decades ago, the way of life was different and different was the way the marketers played their game in the markets. It was more an opportunity for the multinationals and large corporations. But with the arrival of digitalization, the competing levels have become equal between the large companies and the small and medium companies.
2. Cost-effective than Traditional Marketing
Small businesses are those who have very little resources and capital. But with digital marketing, the entire process of marketing has become cost effective. Starting from promotion to delivery of services, everything has become affordable for them.
3. Helps in the Generation of Better Revenues
Higher conversion rates that are generated by effective digital marketing techniques deliver a lot of profitable benefits to the business houses in terms of higher revenues. And in return, the companies can expand their business and workforce. It is an added bonus as an increase in the workforce and the business as a whole will mean that there is an improvement in ways of functioning.
4. Interaction with Target Audience
Digital marketing today is becoming popular and taking over the traditional form. One of its main reason is the ability to interact with targeted audiences in real time. Any customer is likely to want to interact with the one from whom he is buying a product or a service. It depends on the business how they handle these engagements and interactions. Their success or failure will depend on it.
5. Brand Reputation
One of the most important role of digital marketing in any business is that it builds up the brand reputation by attracting targeted traffic. These audiences are almost aware of your product and they seem to know more about your brand, product or services. So, it is very important that you deliver whatever you promised in order to maintain the brand identity.